Aruba ClearPass
The ClearPass Access Management System lets you create and enforce policies that extend across the network to devices and applications. This gives you total control over mobility services and a simpler way to rollout BYOD.
From one integrated platform, ClearPass enables you to manage network policies, securely onboard and manage devices, admit guest users, and even secure, distribute and manage mobile work apps. Best of all, it works on any network.  To reduce helpdesk tickets and easily manage the influx of mobile devices, ClearPass offloads routine tasks to users through guest self-registration portals and personalized self-service employee portals.
ClearPass also leverages contextual data about user roles, devices, application use, location, and time-of-day to quickly deploy BYOD and streamline network operations across wireless, wired and VPNs.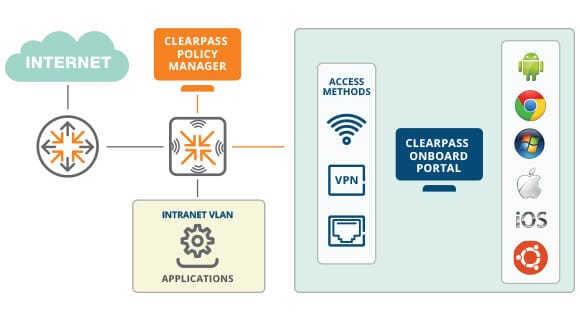 Visibility
Visibility is a critical issue for under-resourced Operations and Security teams. Gartner research shows that each employee uses an average of three mobile devices,2 and now, internet-connected things must also be considered. Factor in corporate guests, contractors and temporary employees, and the number of wired and wireless devices connecting to the network grows even higher. Without accurate data for all of these connected things, security gaps will appear and be exploited. Visibility is the first step toward closing that gap. 
Control
Control of devices is vital for enterprise security. Ensuring that only authorized and/or authenticated devices connect to your wired or wireless network significantly reduces your risk and releases resources.
Response
Response. Your existing security tools—including security information and event management systems (SIEMs), firewalls and antivirus solutions—provide disparate actionable event data. Too many security tools provide too many possible security remedies. When threat data is unified, you can take simple, nuanced actions to suspend or disconnect malicious devices at the network layer and thereby limit loss—without the need for additional processes or resources. 
Secure Access with Aruba ClearPass 
Securing access is simple with ClearPass Guest, OnBoard and OnGuard. Whether a contractor, student, corporate guest, staff or BYOD device, ClearPass access products ensure the right people gain access to the correct networks with authorized devices.
 
Secure BYOD
A built-in certificate authority allows for simple, automated provisioning of 802.1X certificates. This enables secure wired and wireless network connectivity on Windows, Mac OS X, iOS, Ubuntu, Chromebook and Android mobile devices.