SentinelOne
SentinelOne is redefining cybersecurity by pushing the boundaries of autonomous technology. Their Singularity™️ XDR Platform encompasses AI-powered prevention, detection, response, and threat hunting across user endpoints, containers, cloud workloads, and IoT devices.
The network conforms to the needs of the business, not vice versa. Aruba EdgeConnect, built for today's edge-to-cloud enterprise, delivers the highest quality of experience for users and IT, no matter where applications reside.
One Platform.
Three Reasons to Believe.
Best-in-Class Technology
Singularity™ sets the standard for modern security platforms with unparalleled visibility of what's on your network and enterprise-grade automation & control. Rich AI models enable every endpoint and cloud workload to autonomously prevent, detect, and recover from threats in real time.
Industry Recognition & Results
SentinelOne is a proud Leader in the enterprise security market. We have been recognized for our execution and innovation by authorities such as Gartner, and we consistently lead the pack in testing & evaluations conducted by firms such as MITRE Engenuity and SE Labs.
Measurable performance advantage
SentinelOne is committed to the success of our customers, from small IT shops to leading Fortune 10 enterprises; we know that the love is mutual from our 98% satisfaction rate. Teams everywhere trust our MDR & DFIR experts to block and eradicate some of the world's largest breaches.
One Platform Solving More Problems
SentinelOne is a 2022 Gartner® Magic Quadrant™ for Endpoint Protection Platforms Leader Once Again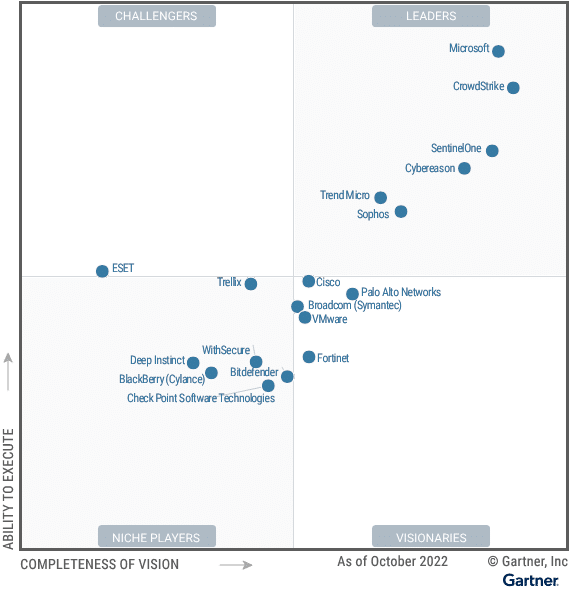 Find out more about how we can help your organization optimize workflows and fully leverage all available resources.